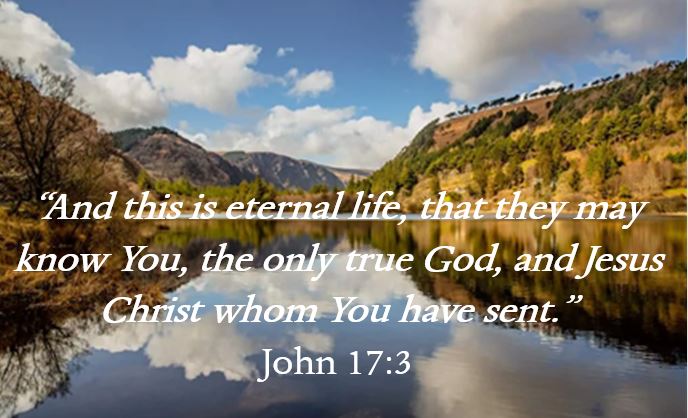 In John 17:3, Jesus made one of the most astounding statements in the Scriptures. "This is eternal life, that they may know Thee, the only true God."
God created mankind to know Him, enjoy Him, and appreciate Him. God created our hearts with a "God-shaped vacuum" that can only be filled with Himself. Sadly, the modern presentations of the gospel speak of Christ's death, burial, and resurrection as an end within themselves. Therefore, the ultimate goal of evangelism is to get an unsaved person to accept Jesus' death as the full payment for their sin, but to what end?
The step of salvation, i.e., one's profession of faith in the Person and work of Jesus Christ, is not to escape the eternal fires of hell or enjoy the eternal glories of heaven, but to be at ONE with the eternal God. The definition of a Christian is "one whose broken relationship with God was restored through Jesus Christ."
Now, one may know there is a God but not have a personal relationship with Him. One may accept the statements about the existence of God from their pastors, or from the authors in whom they trust, or even from their faith in the Holy Scriptures, but they still may not "know Him!" They may be able to defend their faith in God by being able to give every man a reason for the hope that is within them, but still be destitute of that depth of the knowledge of God that assures them of "eternal life."
There is a great difference between knowing about someone and knowing them.  The Apostle Paul spoke of knowing the Lord in all of His fullness. When he penned these words, Paul had been a believer for more than 30-years, but he knew there was so much more to know about this God who loved him so, and he wanted to know all there was to know.
In James 2:19, the half-brother of the Lord Jesus challenged those first-century Christians with this statement: "You believe there is one God. You do well. Even the demons believe, and tremble."  James said if they wanted the assurance of eternal life, they needed to know something more about God than the devils knew or could even know. The fact that most of those who claim to be Christians are content in their knowledge of God is a sad commentary on our day.  Evidently, some who claim to be Christians must not have the same knowledge of God as the devils, for they do not tremble before Him.
Jesus said, "this is eternal life."  Contrary to our first thoughts, the Greek word translated as "eternal" does not have so much to do with the duration of life but rather the quality of life. Even those who refuse God's gracious gift of salvation will spend eternity in hell, world without end. The eternal life Jesus referred to is nothing less than eternal joy, eternal peace, and yes, the eternal holiness, which are characteristics of our eternal God. And to think, the more we know of God today, the more of His majesty and His glory we can experience today, even in the midst of this evil world.
Jesus said, "to know Him."  The Greek word used here is "ginosko," which comes from the same root word used in Genesis 4:1, where Moses said, "Adam knew (yada') Eve his wife, and she conceived, and bore Cain."  Therefore, to "know God" is more than an intellectual knowledge of a Supreme Being; it is to have a such a personal, intimate relationship with Him that it produces new life through us. While such a relationship with God will require every facet of our being, our mind, our will, our emotion, and yes, our physical bodies (Romans 12:1-2), the fruit of such intimacy includes love, reverence, respect, obedience, honor, gratitude, affection, and a longing for an even greater oneness with Him. If we can't imagine spending an hour alone with God each day, on what basis can we say we long for heaven?   
Why did God create us? To have fellowship with us.
Why did Christ come to earth? To restore our broken fellowship with God.
In fact, there is no other way in which God can be fully known other than in the life and ministry of Jesus of Nazareth. While other images of God are manifested in the icons of all religions, even within the evangelical religion, Jesus was the full and final revelation of God to man. Therefore, to know God is to know what He is like, and to be on the most intimate terms with Him, and neither of these things is possible without Jesus Christ.
In the epistle of 2nd John, the Apostle presented three stages of spiritual maturity among believers.
"The little child" – one who understands his sins are forgiven, and he is assured of heaven.
"The young men" – those who have overcome the wicked one, i.e., they are able to recognize sin for what it is and yield to the power of the Holy Spirit to reject it.
"Fathers" – but this was not a reference to one's gender or age, but rather their spiritual maturity – this believer can become a reproducing reproducer because they "Know God."
Over 50-years ago, a teenager burst into my office, and with tears running down his face, he cried out, "I want to know this God you keep talking about!"  Like many others I've talked to over the years, this young man was raised in a Christian home with godly parents who were active in a Bible-teaching-preaching church. He was involved in all of the children's ministries and had memorized all the scriptures to receive all the badges. He knew the plan of salvation and had shared it with many of his friends. He believed in God! He had received Christ as his Savior! He had been baptized as an outward expression of his inward confession of faith. He had done everything he knew or had been asked to do, but the truth was, He didn't know God in a personal way I had described Him.
To some degree, that young man's cry established the purpose and set the pattern for my ministry, even to this very day – to challenge every believer to do whatever it takes to develop that personal, intimate relationship with God so they can make Him known to others. As A.W. Tozer said,
"I want the presence of God Himself, or I don't want anything at all to do with religion…I want all that God has, or I don't want any of it at all!"
Beloved, do you have such an intimate knowledge of a holy God? Have you spent ten, twenty, thirty, forty, or more years in the doldrums of dead religion, not knowing the fulfillment of the atonement with God that Jesus died to give to you? I pray this pamphlet will help you realize our loving Heavenly Father delights in revealing Himself to those who are willing to seek Him with all their heart; to "count all things but loss (dung) for the excellency of the knowledge of Christ Jesus my Lord." (Philippians 3:8) What in this world are you allowing to rob you of the eternal joy Jesus died to give to you through the knowledge of God?
"O God, I have tasted Thy goodness, and it has both satisfied me and made me thirsty for more. I am painfully conscious of my need for further grace. I am ashamed of my lack of desire. O God, the Triune God, I want to want Thee; I long to be filled with longing; I thirst to be made more-thirsty still. Show me Thy glory, I pray Thee, so that I may know Thee indeed. Begin in mercy a new work of love within me. Say to my soul, 'Rise up my love, my fair one, and come away.' Then give me the grace to rise and follow Thee up from this misty lowland where I have wandered so long." – A.W. Tozer