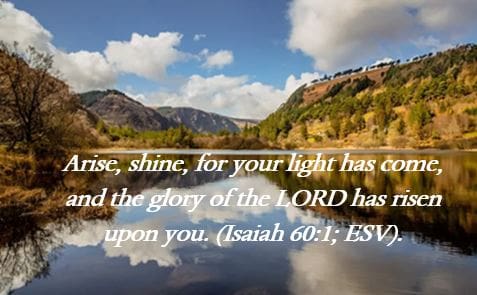 REFLECTORS OF HIS GLORY
The first question on the Westminster Shorter Catechism asks: "What is the chief end of man?" The answer: "Man's chief end is to glorify God, and to enjoy Him forever."
"For who in the heavens can be compared to the Lord? Who among the sons of the mighty can be likened to the Lord? – Psalm 86:9
"For of Him and through Him and to Him are all things, to whom be glory forever. Amen." – Romans 11:36
God's standard is measured by His perfection and His glory. Everything God does is ultimately for our good, but more importantly for His glory, and that includes our eternal salvation through Jesus Christ.
"For My name's sake I will defer My anger, and for My praise I will restrain it from you, so that I do not cut you off. Behold, I have refined you, but not as silver; I have tested you in the furnace of affliction. For My own sake, for My own sake, I will do it; For how should My name be profaned? And I will not give My glory to another." – Isaiah 48:9-11
"You are worthy, O Lord, to receive glory and honor and power, for You created all things, and by Your will they exist and were created." Revelation 4:11
However, no one but Jesus has ever achieved that goal. In Romans 3:21, the Apostle Paul said we all have sinned and fallen short of the purpose for which God created us. To be saved, we must die to ourselves and allow Christ to live His life through us. Therefore, when we receive Jesus Christ as our Savior and surrender unto Him as our Lord, we become reflectors of God's glory.
"I have glorified You on the earth. I have finished the work which You have given Me to do. And now, O Father, glorify Me together with Yourself, with the glory which I had with You before the world was. And the glory which You gave Me I have given them, that they may be one just as We are one: I in them, and You in Me; that they may be made perfect in one, and that the world may know that You have sent Me, and have loved them as You have loved Me. Father, I desire that they also whom You gave Me may be with Me where I am, that they may behold My glory which You have given Me." John 17 – selected
The core purpose of our lives is to worship God, and while that includes times of personal and corporate worship, it goes beyond those times to include every action and attitude of our lives.  We are called to glorify God in every activity of our lives, in every thought, every feeling, and every expression: we are to be reflectors of God's glory to a dark world.
To understand this, take a drive out into the country and to a place where there are no other forms of light. You might want to access this link to get your bearings: https://astrobackyard.com/the-star-betelgeuse/, but once you get oriented, you will see the world-famous star "Betelgeuse!" It is the tenth brightest star in the heavens, and because of its color, it can be seen from the earth with the naked eye, even though it is some 640 light-years away. "Betelgeuse" is twice the size of the earth's orbit around the sun, and yet, there are billions of stars beyond that one which we cannot see. Stare into the night sky as you read:
"The heavens declare the glory of God." – Psalm 19:1
"For by Him all things were created that are in heaven and that are on earth, visible and invisible. All things were created through Him and for Him."– Colossians 1:16-17
Everything God created was to speak His majesty, to bring Him glory, and the amazing thing is how the rest of creation cooperates in that assignment. The same stars we see in the heavens have been there for thousands of years, and yet we never read of them arguing with God about the difference in their size or color, or their position in the firmament. Stars just do what God created them to do – they reflect God's glory.
It's the same way with the rest of God's creation. Animals do what God created them to do, part of which is to provide food for mankind. Trees lift their limbs in glory to God, but they also are used to provide shelter and heat for mankind. Flowers bloom and butterflies flutter, but they never complain to God about their brief time on earth – they just reflect His glory in the time God has allotted them to live.
Isn't it amazing that everything in creation glorifies God except the two highest creatures He made, the only two beings to whom He gave a will?
God created angels with a will, and one-third of them defied God and revolted against Him. According to the Epistles of Peter and Jude, God made no provision for their redemption – they are doomed to hell for all eternity.

God created mankind with a will, and every person who has been born has sinned and fallen short of God's glory. However, because of His marvelous, matchless, and merciful grace, even before the foundation of the world, God provided a way for our salvation, and in so doing, to vindicate His own glory.
As the crown of His creation, God has given us a much higher calling than even the stars in the heavens. We are the only beings created in God's image and for the expressed purpose of glorifying the One who created us and chose us in Christ to be like Him.
The world in which we live today is dark, and according to the Scriptures, it will become increasingly darker as we approach the end of this age. In Matthew 5:16, Jesus told His disciples, "Let your light shine before others, so that they may see your good works and give glory to your Father who is in heaven."  The day will soon come when the whole earth will be filled with His glory, but until then, God has called the likes of us to stand out like beacons against the backdrop of a very dark world; to be like road signs that point people to the place where they can find truth, hope, and love.
However, the truth is, we have no "light" of our own – we are simply reflectors of God's glory, and if there is some unconfessed sin in our hearts or some habitual sin from which we have not been set free, to that degree the glory of the Lord is diminished. Instead of reflecting the true nature of God before others, we are simply mirroring the darkness around us.
Think about it! God created us for the expressed purpose of glorifying Him and worshipping Him forever, but as the Apostle Paul said in Romans 1:22, sinful man will worship anything and everything except a holy God. We will worship sex, fame, fortune, security, comfort, earthly pleasures, and worldly treasures, but in so doing, we are not only harming ourselves; more importantly, we are marring the image of God's Son to the rest of the world.
In 1 Corinthians 10:31, the Apostle Paul said, "Whatever you do, whether you eat, or drink, or whatever you do, do it all to the glory of God."
What difference would it make in your daily schedule if you considered every attitude and every action as an act of worship unto God?
How might that change your attitude toward the mundane things we all have to do if you were doing them for the praise of God's glory?
   In 1 John 1:9, the Apostle said, "If we confess our sins, he is faithful and just and will forgive us our sins and purify us from all unrighteousness."  Remember, your purpose in life is to glorify God with every fiber of your being. Are you fulfilling that purpose? Are you a clear reflector of His glory? Let me encourage you to spend some time in the Epistles of John and obey the promptings of the Holy Spirit as you answer the questions John asks. Remember, someone may be looking to you to find Jesus, and the goal of our life should be to serve the Lord as a reflection of His glory!  PW